Imagine a classroom in which students research relevant issues and collaborate together to find real-life solutions; a classroom in which hands-on experiences pave the pathway to future careers; and a classroom in which students develop the skills, knowledge, confidence, and motivation to thrive in the world ahead of them. At Wichita Collegiate Middle School, students don't have to imagine it … they get to experience it everyday.
The Lammers Innovation Lab, often referred to simply as the iLab, provides a unique maker-space that is fully outfitted with state-of-the-art technology -- from table saws and routers to a 3D printer and sound mixers -- providing students the tools to bring their solutions to life. The educator at the helm of our Middle School iLab is Mr. Joe Gehrer '02. Teaching several classes in the space, including Vexlab, ScratchLab, WoodLab, and Tinkerlab, Mr. Gehrer seeks to provide students the opportunity to push outside their comfort zone and step into the mindset of critical thinkers, problem solvers, and innovators.
HANDS-ON EXPERIENCES THAT BRING LEARNING TO LIFE
If you have spent time with a child that loves LEGO, you can probably appreciate the visible excitement you might see in a classroom full of twelve year-olds staring at a table of robotics parts. As you watch their eyes dart from gears to wheels, you can see their minds turning with the possibilities of what they may create. VexLab, a hands-on approach to the design process through robotics, provides students the opportunity to design and build robots with the end goal of playing a sport-like game. As an introduction to engineering problem solving, students try various robot configurations and evaluate the limitations of their coding and building skills by assessing what worked well and what could be improved. In the end, they will have the chance to not only take ownership of the machine they create, but watch it come to life by applying the coding they learn in the process.
Scratching a similar creative itch within our young students, ScratchLab utilizes a visual programming language for students to code their own stories, animations, and games. Students use hands-on programming skills to explore and discover the world of computer science. "It's fun looking at the different coding blocks and trying to problem solve what makes the most sense to use," shared 7th grader Jackson Rukes when asked what he likes most about his class. He went on to say, "Plus, most of us will probably have a job in the future that uses a lot of technology. It's great that we get to spend time coding now."
Beyond introducing students to coding, Scratch programming can be used across all core subjects to take an understanding of content to the next level. As the students dive deeper into the class, they will have the chance to incorporate core subject content to create review games for their peers. From their experience in the iLab, students learn to be creative, tackle difficult problems, collaborate with others, and even help their classmates be more successful in other classes.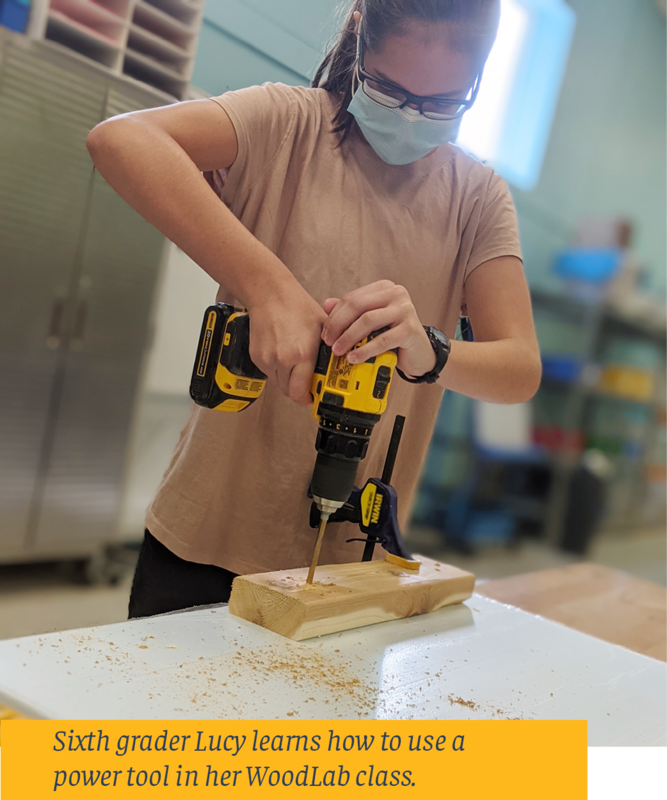 PUSHING PAST THE WALLS OF THE CLASSROOM
Perhaps the most exciting opportunity that awaits students in the iLab is the chance to see their work applied and used in their world. Course projects require students to think critically about how they can improve their environment, and in doing so, show our students that they can positively impact their world through creativity, problem solving, and hard work.
There is hard work being done now, in fact, as students in Woodlab tackle their latest project.. With the recent addition of a new Middle School commons area, the need for new tables and benches was made apparent. As students are introduced to different types of hand tools, small power tools, power machines, and the safety that goes along with them, they will have the chance to turn a simple piece of wood into something that they and their classmates will be able to enjoy and use for years. The indelible lessons that accompany completing a project requiring such creativity, planning, and diligence will last long after these students graduate from their WoodLab class.
As WoodLab students craft new tables and benches, TinkerLab students will design birdhouses for our Collegiate grounds. In TinkerLab, students learn how to use 3D modeling software to give shape to their ideas, and then build their models with clay, wood, and LEGO bricks. Students will even have the chance to watch their designs come to life by using perhaps one of the coolest pieces of tech in the iLab, the 3D printer. Having researched area birds, students will create their own blueprints of what they think suitable habitats for birds frequenting our campus might look like. Those blueprints will then be brought to life by students in WoodLab. This collaborative project sets a long-term foundation for entering into the business of design and manufacturing, and in the short-term, students have the chance to see the fruits of their labor in use on campus.
BUILDING LIFE SKILLS
Each course offered in the iLab is carefully designed to introduce new tools to students, a process that builds their capabilities and confidence, thereby empowering them to improve their world. When asked what he hopes students gain from their experiences in the iLab, Mr. Gehrer said, "I want these students to have hands-on experience with tools and a chance to dive into computer science. My goal is to spark their interest enough so that they choose to continue taking courses in the Upper School iLab, and even perhaps enter into any of the various STEAM career opportunities these courses expose them to."
Creating opportunities for Middle School students to gain relevant experience in solving real-life problems can be challenging. But spaces like the Lammers Innovation Lab under the direction of teachers like Mr. Gehrer do even more than that. Classrooms such as these teach children to feel inspired by what they can accomplish. In being presented with excellent instruction and cutting edge equipment, students learn it is by bringing to the table their own dedication and imagination that innovation will follow.
---
Read more about what our Spartans are up to on our Publications page.